5 Swimming Pool Renovations for Enhanced Exterior Look
Is your backyard boring? Are you a little dissatisfied with your old swimming pool maybe because you had installed it years ago? Or maybe your installation budget was limited? Whatever be the reason, it's possible to make some dramatic changes to your pool without even spending oodles of money, fortunately!
Pools may be redone for various reasons- the most common being to bring its look and feel up to contemporary standards. Pool remodeling is a specialty which takes experience and know-how. Now that the summers aren't far enough, your pool area should look as good as possible.
Here are a few of pool renovation ideas to consider if you're looking to get more bangs for your buck. The below-mentioned ideas are aimed at making an outdated swimming pool look better and function at minimal investments.
1. LED Lighting-
Adding features to your existing pool is the easiest, quickest and the most efficient way to change the appearance of the pool area. Pool lighting is more energy efficient than traditional options, requiring lower costs of installation. Also, there's probably no cheaper way to transform an old and boring swimming pool into a glamorous oasis just by upgrading the LED lights. You can install LED lights that come in all different colors below the water or anywhere in the pool area turning it from a simple swimming area into a much more visually appealing, luxurious space.
2. Improve the area around the pool
Focus on changing the nearby pool area if you think that the surroundings are letting you down. For low budgets, you can create an exquisite backyard oasis by adding new plants- shrubs, herbs and ferns, thus immeasurably increasing the attractiveness of your outdoor pool area. A colorful planted border in a contrasting color to the pool will really pop. You may also add sun loungers as they are an absolute necessity for the swimming pool area.
If you are having a larger budget then building a bar, a kitchen or any entertaining area near your pool is a great way to increase the value and look of your backyard. But if you're planning on adding new structures to your swimming pool area, don't forget to check with your local council.
3. Update the fencing-
A lot of old pools have outdated fencing around the pool which affects it's overall value to a great extent. Fences are a great way of not only enhancing the appeal of your pool area, but it also increases the safety around the pool. This will not only increase the value of the pool but also safety- safety of children and pets. Elegant glass fencing is currently one of the most popular designs. Not only does it show off the pool but this idea is loved by the parents as they can watch their kids without having their view obstructed. Natural wooden fencing is also highly favored as it blends with its natural surroundings more.
4. Water features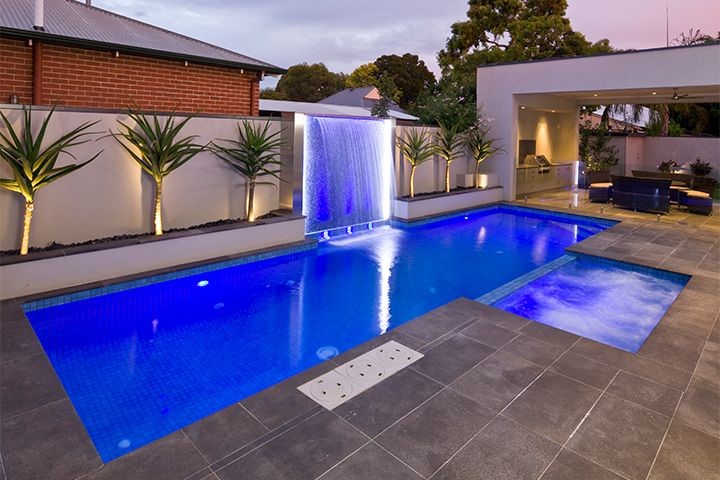 Water in motion relaxes our senses- it's lovely to look at, calming to hear, thrilling to touch and refreshing to our bodies and spirits. Imagine a swimming pool with a waterfall or a water feature- it lures you into its beauty. You would want to choose water features that complement your home's and pool's architectural style. Plus they should fit within your budget and taste. Various water features that you can add to your swimming pool environment are-
Waterfall
Fountain
Water wall
Rain curtain
Mist
Bubblers, etc. 
5. Use vinyl pool liners
Loved for many reasons, vinyl pool liners are available in an extensive range of colours and patterns. They are loved for their silky smooth texture and low maintenance. One can drastically improve the look and feel of the swimming pool by simply replacing the old vinyl liner with a new one in a different colour. Vinyl liners available today are much thicker, very durable and UV protected which is better than ever.
Whichever pool renovation option you are envisioning, make sure you consider your time frame, budget, skills and future maintenance. Also, it's important to ensure that you employ experienced professionals to carry out the work for you. Task Masters is always ready to assist you. Contact us to get a quote and we can transform your current pool into a stunning area you will love for years to come!