Renovation Tricks to have a Luxurious Home on a Budget
While there are many reasons why homeowners decide to take on home renovation projects, it mostly boils down to adding value to a home. From fresh paint tasks, landscaping to total room renovation, the goal is to make a home look nicer and more luxurious.
In an ideal world, you would all have top-class designers at disposal to make your space exudes luxury, comfort and sophistication. Sadly, reality can bite, and your wallet may run out dry. However, we, at Task Masters, the leading home renovation company in Dubai, help you to get a custom, upscale look without breaking your budget. With a few simple adjustments and strategic styling techniques, we can create a space that looks regal on a shoestring.
Illuminate your space with proper lighting
Let there be light everywhere! Well, a simple yet cost-effective way to make your house look more chic and lavish is by including lighting pieces that are fascinating and expressive. There is no one way to achieve a glamorous glow in your home, but rather to think of lighting as "the jewelry of the room," accessorizing your space as you would do with an outfit.
Lean towards items with amazing shape, finish, or intricate designs, thus focusing on eye-catching lighting that is sure to make a statement in a room. Arrange lighting in different heights or use bulbs of diverse sizes to have a dramatic impact that reduces unflattering shadows. We recommend LED light bulbs because they are both cost and energy-efficient and also long-lasting, thus eliminating the effort of replacing your bulbs frequently.
Minimize furniture
Clutter and mess are definitely un-chic. When it comes to making your home look more luxurious, you should follow the minimalist approach of "less is more". Rather than filling up your space with redundant furniture pieces, our suggestion is to keep furniture minimal with items that you need versus those you just want in a room.
We believe that the best way to begin the process of de-cluttering is to go through each room and asking yourself what purpose each piece of furniture serves. For example, if you have extra chairs for seating that no one ever uses, maybe it is time to remove them.
Never forget the rug
If you have wooden floors, or any flooring other than carpet in your home, adding a rug can make a space feel cozy and inviting. It can also be the finishing touch in your living room or bedroom, thus adding that final décor detail to pull the room together.
Make sure your rug is proportional to the space where you are placing it because using too small-sized rugs will make your space look less expensive, and smaller than it actually is.
Whenever you are placing any furniture on top of the rug, ensure that the rug extends a certain amount of space with each kind of furniture. For instance, dining room chairs should be placed three feet behind each chair and the furniture should have at least two front legs sitting on the rug.
Add a pop of color
While painting the walls of your home may be a costly and time-consuming task, there are a few things you can paint in the home that may give a new life to your existing furniture and appliances.
Start by identifying the older pieces inside your house. Do you find that you are stuck with the cabinet colors that contradict the color scheme of your kitchen? Try painting them using a neutral shade such as grey. Apply a similar concept to other outdated items in your house. Here, Task Masters advises painting older wood or unappealing furniture with easy-to-use chalk painting in shades of white or gray.
Accent on the accessories
Well, you do not have to clean out your space completely in order to have an expensive and aesthetic appeal in your home. By including a few key pieces in a room, you can add to the comfort and flow of your home's design. Hanging curtains near the ceiling may create a luxurious and upscale look in your home since long curtains will give an illusion that your room is larger. Also, by placing a few plump throw pillows in the seating area, you may be able to create a comfortable as well as stylish tone in your house. Try choosing a few fashionable pillows with minimal designs.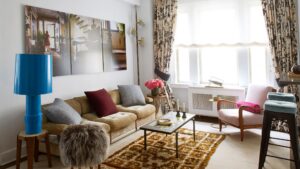 Use fresh flowers and greenery
There is no need to have a wallet-busting huge arrangement to add luxury to your home. A simple bouquet may be all you require to glam up space. Besides it is all about how you arrange the flowers and also what vase you place them in. We recommend first separating the flowers by stem type and then making several small arrangements to spread around your house. The dent in your wallet is minimal but the overall impact on your house is certainly monumental.
Install Molding
Installing moldings or trim inside your house is a great way to making your house look more beautiful and expensive. We suggest going for crown molding that is less expensive but it can be the perfect finish to a bigger room in your house thus creating continuity between ceiling and wall. While white color is the best choice for a clean and chic look, you may also add more color to your room by painting the molding. You may also add molding to your ceiling beams, baseboards, ceiling medallions, chair rails and columns but the key is not to go overboard. Choose subtle areas in a bigger room in your house to install the molding.
Want to transform your home space now? Get in touch with Task Masters, a leading home renovation and maintenance company in Dubai for professional help in converting your house into a lavish abode.