Your Complete Kitchen Renovation Guide & Top Kitchen Designs.
Here's your guide for a perfect kitchen in 2022
Ever walked into someone's home, and all you remembered was that beautiful kitchen? There's no denying the fact that the kitchen is probably the most important area of your home. It really pays to care about the way your kitchen looks.
After all, it's not just about making meals – it's about bringing your family together and making your home feel cozy and inviting. Therefore, the interior design of the kitchen needs to be kept well. And what if you went the extra mile and wanted to ensure that your kitchen isn't just nice but also the trendiest? It's about the core part of your living area; You just need to think well because you really can't afford to get this wrong.
Here is the complete guide for the trendy kitchen designs and décor that you might consider before thinking about kitchen renovation.
Know your space to know these Trendy-Kitchen-layouts:
1) One-Wall Kitchen.
The one-wall kitchen layout features cabinets and appliances placed against a single wall. This type of kitchen is preferred by people having limited space. Hence this type of kitchen is mostly preferred by people living in small houses and flats. 
2) Galley Kitchen.
Also known as corridor kitchens, the galley layout is a lean and efficient option for small kitchens and snug spaces. Two walls facing each other characterize this kitchen layout. This adds to the space and makes it convenient for people to keep the stuff handy.
A galley kitchen lets you make optimal use of small spaces. Very often, there are no troublesome corner cabinets to configure, though that's not always the case.
3) L-Shaped Kitchen.
The L-shaped kitchen layout is streamlined and dynamic. It features units built on two sides of a corner and plenty of work surfaces. It's advised that the legs of the "L" be around 12 to 15 feet to maximize the space.
4) U-Shaped Kitchen.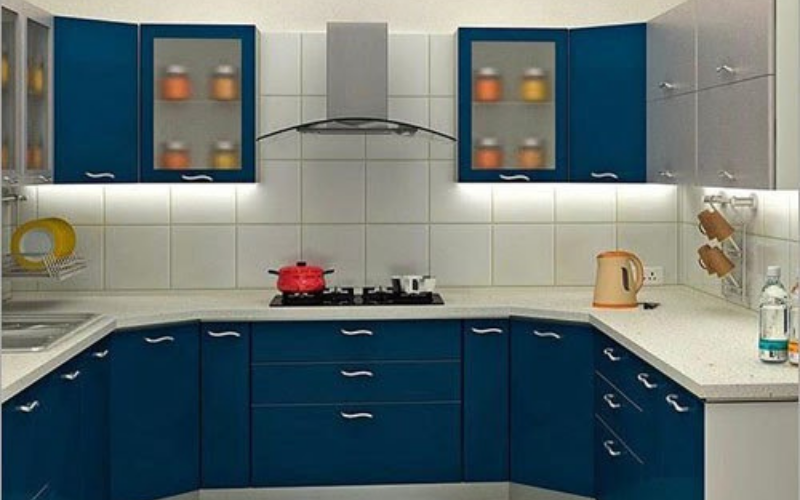 A U-shaped kitchen layout wraps around three walls, defining the cooking zone and dividing the kitchen from the rest of the house. Also known as horseshoe kitchen layouts, U-shaped kitchens provide plenty of storage space, allow for great workflow and let multiple users navigate the kitchen together.
5) Island Kitchen.
One of the most sought-after kitchen layouts is the island layout. An adaptable solution, the island can be the main prep surface in the kitchen, a cooking center or a washing center—or both. Kitchen islands are astonishingly functional.
6) Peninsula ( G-Shaped) Kitchen.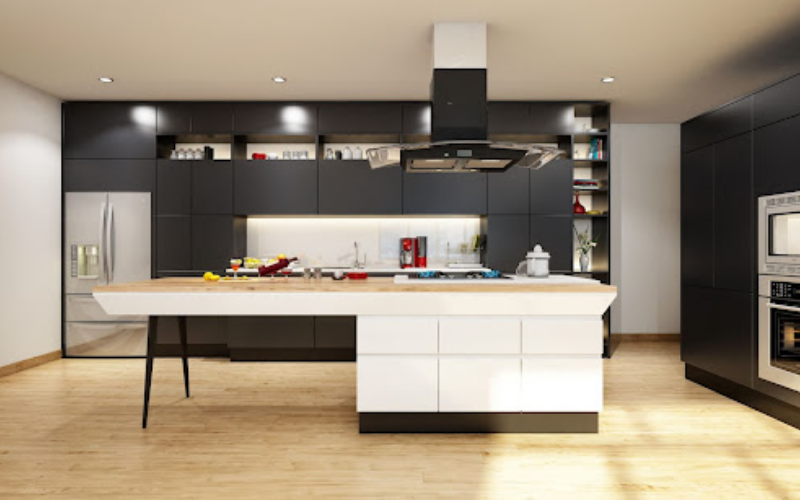 A peninsula kitchen is a U-shaped kitchen layout with a connected island. Some people call this a G-shaped design because of the shape the attached island creates. Peninsulas offer a similar traffic pattern to island kitchens but provide more workspace within reach. This is a great solution where space doesn't support an independent island.
The right kitchen layout will leave plenty of room for storage, organizing kitchen gadgets, and leaving enough space for cooking without feeling cramped.
If you love to cook and entertain, a harmonious arrangement of countertops, appliances, and storage spaces is the decisive factor behind its success. Kitchens come in various shapes and sizes, but it's the well-balanced layout that ensures yours can be as functional as it is beautiful. However, keep things consistent. Ensure that the kitchen stove has a heating vent over it so that there are no fire issues and the stove can be cooled quickly.
Some modern kitchens have a stove on the island so that you can move from prepping the food to cooking easily. Also, lighting is important above the stove to make sure you can see the food you are cooking. However, if you decide to renovate your kitchen, make sure that the interior design of your kitchen makes sense to you and allows you to move about freely and effectively.
The bottom line is that identifying the right kitchen layout for your space is the most crucial factor in ensuring a practical kitchen area that's safe and comfortable for the entire family. Whether you have a large or small kitchen space, the right layout will help you get the most out of the space.