6 simple ways to save on your Utility bill in Dubai!
The United Arab Emirates is among the top nations in per capita electric consumption in the world. To give you an idea of where we stand in comparison to the other countries, as shown in the chart below. This data was compiled in 2017 and figures in 2018 are expected to be much higher.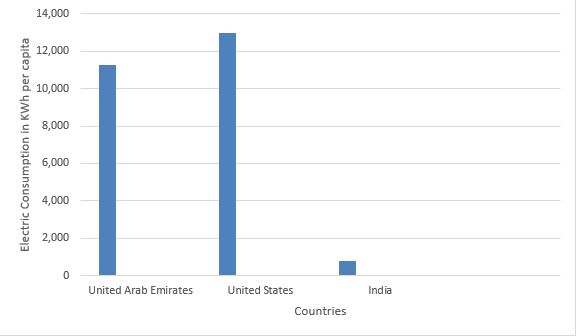 Keeping this in mind, it becomes our responsibility to watch our everyday usage of energy and finding a means to cut down on that. Doing this will not only help us get lower electricity bills but can also make us the part of future sustainable development.
Here are the 6 simple ways of getting lower electricity bills and saving energy.
Air Conditioner Maintenance.
Did you know that in hotter regions, like Dubai, 70% of your electricity bill is because of your Air Conditioner? Air conditioners are known to consume most of the electrical energy in your home.
If only you could maintain your AC, you would cut down on your electricity bill by up to 40%. Here are some few tips to maintain your AC and increase its efficiency.
Clogged and dirty air filters block normal air flow and reduce AC's efficiency significantly. You should clean your AC air filters once in every 3 months. If you don't know how to that, consider consulting AC services in Dubai.
The average lifetime of AC is 10 years. After that, its efficiency decreases and consumes electric energy which is more than required. It is better to replace your AC after 10 years of usage.
Watch for the Stars! A 5 star AC can save you up to 25% on your electricity bill.
Keep your thermostat set at 24 degrees Celsius. Each degree can mean up to 5% savings on the bill.
Lightning.
Quick ways to save electricity bill on your home lightning are:
This one is very simple. Turn off your lights when not needed. This is so simple, yet we tend to ignore this.
Replace incandescent light bulbs with LEDs.
Look for any damage in the lighting system which may cause excessive use of electricity. This generally goes unnoticed by common house owners hence requires a professional expert. Try consulting electrical services in Dubai for this.
Use Solar powered lights wherever possible.
3. Smart Cooking!
Lower your electricity bill while cooking. Here is how you can do this:
Pressure cookers use much less energy than ordinary pots and pans. Use them more.
Use Microwave oven more than the main oven. They consume lesser energy.
Using flat bottom pans is more efficient. This ensures that pan has better contact with heat and cook food in lesser time.
Use tight-fitting lids to keep the steam in the pan.

All About Refrigerators!
Electrical maintenance of refrigerators in Dubai is necessary. Save energy on Refrigerators by following these tips:
Brush the cooling coils in at least every 6 months. Again, this might require getting electrical services in Dubai.
Keep your freezer temperature at 18 degrees Celsius.
Check your refrigerator periodically for signs of deterioration.
Electronics.
Unplug any unused electronic device from the socket.
Do not unnecessarily charge your electronic devices.
Make judicious use of the battery of the electronic device.
Water Heaters.
Solar water heaters are more efficient than electric ones. Consider replacing an electric water heater with a solar water heater.
Switching off your water heater in summers can save you up to 50% on electric energy consumption.
The optimal lifetime of water heater is 5 years and becomes inefficient after that. Consider replacing your water heater after every 5 years by a well reputed electric maintenance company in Dubai. 
These were some of the ways you can save on your electricity bill. Majority of them depends entirely on how you maintain your electrical appliances. Having appliances in a healthy condition is crucial if you want to lower your electricity bill in Dubai. Having them in a bad condition is obviously a burden on your pocket. So, it is always worth it to maintain your electrical appliances, or you can even go to hire services for electrical maintenance in Dubai. If you have any more ideas on how we can save energy, then you are welcome to let us know in the comment section.