Things That Can Make Your Home Look More Elegant
You got to spend a lot of money to make your home look expensive and elegant! Not really, I am just kidding. What if I tell you that there are some sneaky ways and tricks that can make your home look more elegant? Not one or two, there are many such ways that can give your home a classy look and that too without hitting your bank hard.
We, at Task Masters, have been in the home renovation and upgrades field for many years now and have collected some subtle things to do for your home to make it look luxurious. After all, if it is in Dubai, it has to be luxurious.
Without any further ado, here are some of the many ways to reinvent your home.
1. Lighting – The Proper One
Just a few changes worth of few bucks with your lighting will give it a thousand dollar look! Start with the lights that are not traditional and look more of designer lights. These lights are available at inexpensive prices across all online shopping portals.
The second thing you can do is make the lighting spread uniformly across the interior space. You can do this by adding different kinds of lights such as table lamps, wall mounted lamps, chandelier, etc.
Also, go for lights of different tones to give a warm look. Avoid having lights of the same tone; they do more harm than good to the interior design.
2. Paint – Bold, Soft or Deep
There are few colors that add instant glamour and give a more elegant look. Go with one of the following painting patterns:
Bold and Dramatic.
Soft and neutral.
Never do the mistake of having both in the same area unless your designer has some other plans in mind.
Using deep colors such as Dark Blue also give an expensive look. Painting can dramatically up your interior design game only if you are very good at colors. You can also get help from painting services if you find it an overwhelming task.
3. Molding
Use molding wherever you can. This will add subtle detail to the design of your room that will look more pleasing to the eye.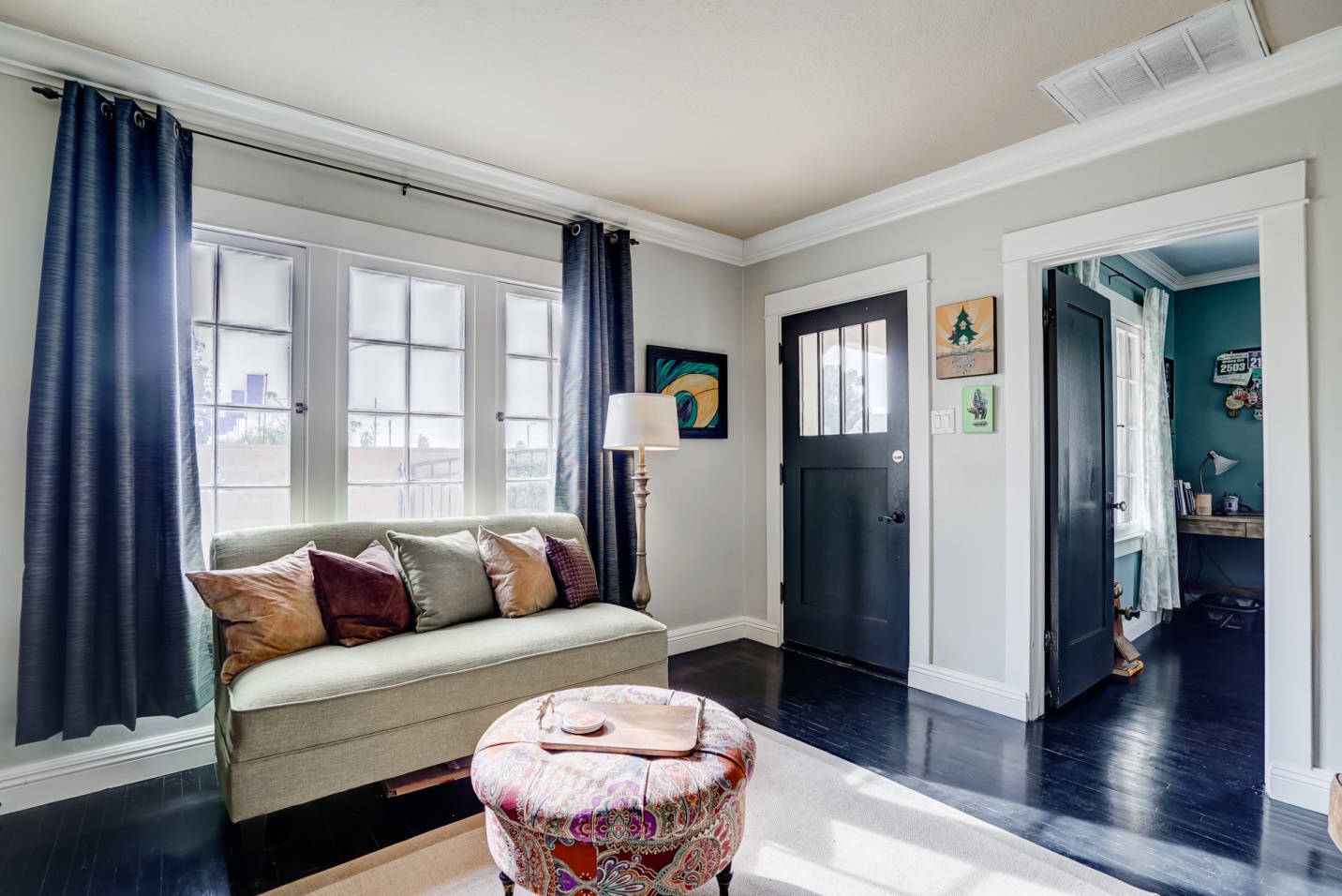 Explore various molding types such as the crown, ceilings, etc. Crown molding will tie your ceilings and walls together to give off a positive vibe. You can easily get inexpensive molding materials that will fit into your budget.
4. A Gallery Wall.
Give your walls some more elegance by adding a gallery section. You can hang some artworks, pictures, sketches, etc. there. Have you ever entered some luxurious house? You will notice that they all have gallery walls.
A gallery wall does the subtle trick of making the room look like luxurious, expensive and elegant. What will it cost you? A few bucks only!
5. Removable Wallpaper is a thing
Removable wallpapers are becoming increasingly popular now. You can use it for pieces of furniture such as storage spaces or you can cover your wall with it. Get nice printed wallpaper and stick it to the wall and see how it transforms it.
These wallpapers are not so expensive and yet give the elegant look and feel.
6. Play with Curtain Heights
Do you know that having curtains hanging right from the ceiling edge gives the illusion of spacious space? Also having curtain height right till the floor gives a brand new and classy look.
You can seek out help from a professional handyman in fixing the curtains. Doing this won't have an effect on the curtains but would definitely upgrade the look of the room.
7. Large Scale Art
There is this one thing that can instantly turn your interior space into a pure form of elegance. It is this one big art frame. Order a big, beautiful and creative frame of art and hanging over a wall and see how it transforms the overall look.
8. Accessorize
Bringing in accessories into your living room is never a bad idea. Having creative art forms, design elements, etc spread across your room makes it look classy, elegant and expensive.
Be creative and try to blend in different kinds of accessories together.
Winding this up, these were some ways that can make your home more elegant and that too within your budget. For any further consultation regarding renovation and upgrades in Dubai, contact us at Task Masters. We are always ready to help you.