Tips to Decorate Your Workspace at Home
Warning: This post is not about those boring workspaces which are as unappealing as Monday morning feelings. Read this only if you love creativity as we do.
Home offices are as much a part of the modern home as dining rooms. As the work from home culture continues to grow (we're millennials, yeah), the demand for having Instagram-perfect (millennials, you see!) home workspaces is increasing.
"Your workspace in your home not only represents who you are in the moment but also who do you want to be in the future". Wait! Was that supposed to sound philosophical? No, this is science. Your environment affects your mind. A perfect workspace can foster creativity, joy, and fulfillment (Okay, you can skip fulfillment).
In this post, we have outlined some tips to decorate your workspace at your home. Get ready to bring in some coolest elements to get your creative juices flowing!
1. Bright Colour
When you approach your workspace, it should be welcoming not repelling. This helps a lot, especially on Mondays.
One of the things you can do is to include a bright colour like orange, yellow, etc. Dark color won't work here unless you are intensely focussed and productive.
Colour combination is a real serious thing so just make sure the colour you choose compliments the surroundings – See! How much we care!
2. Art Works
Remember when I said workplaces should foster creativity, joy, and fulfillment? – yeah, let's keep fulfillment also. Having artworks in your workplace can exactly do that.
You can include picture frames, quotes, highly attractive lamps and anything your creative genius can come up with.
Imagine when you go to your home work place and you see a picture that inspires creativity and action? Wouldn't that be great?
3. Pendant Lights!
Pendant Lights along the desk! A picture-perfect workplace.
These lights not only provide illumination but also add to the design of your workplace. Make sure the lights are at a proper height otherwise they will distract you because I believe, yes, I believe, you want to be monomaniacally focussed on your work.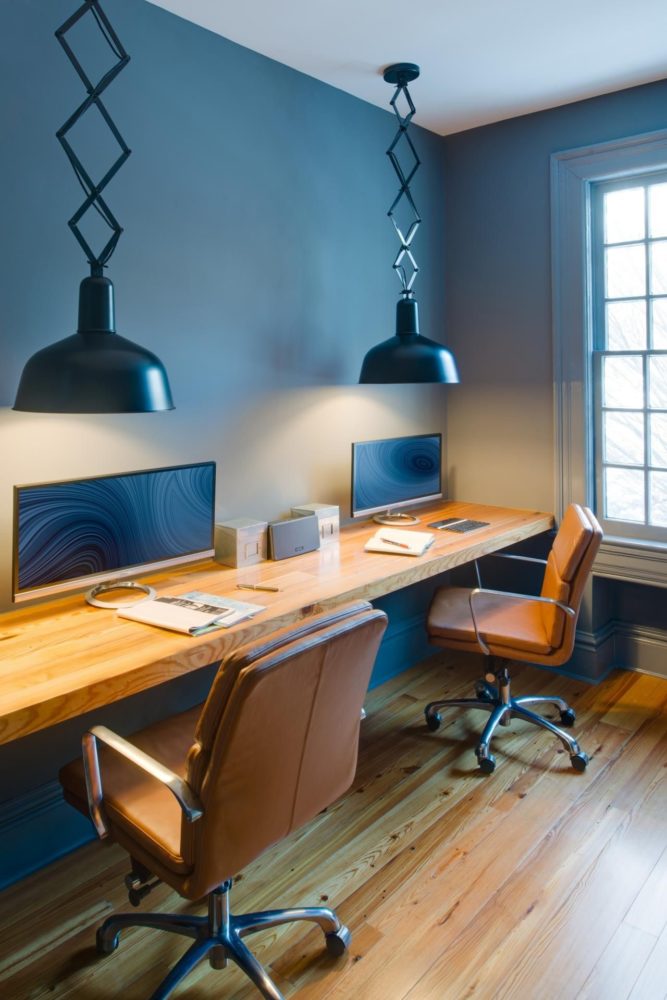 4. Book Ledges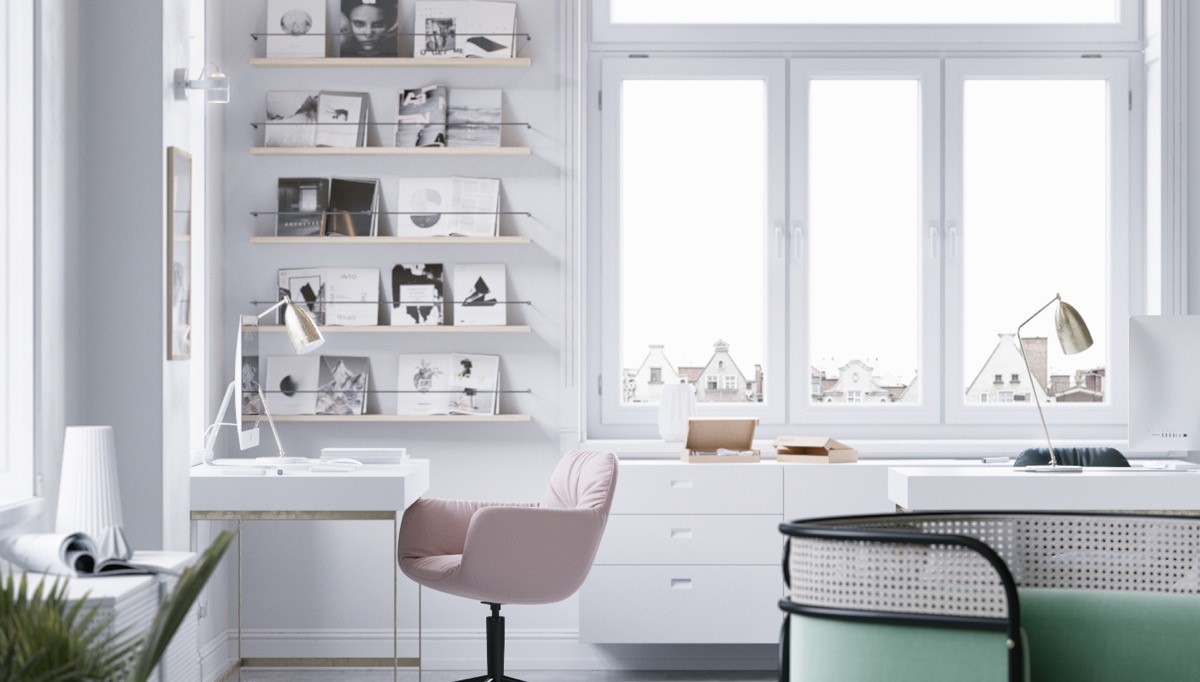 Book ledges against the desk look great. You can have books open at their most inspiring parts. Or you can have reports and manuals there.
This blends quite easily with the rest of the room and adds to the overall design of your room.
5. Carve out a section
Using smart color coordination technique, you can carve out a section in your room for the workplace.
It can be in one of the corners or near the window. It all depends on your convenience and creativity.
With some carpentry and painting works, you can get it done.
6. Wood Wall Panel
Wooden wall panel right behind your desk will add a natural feel and sense of calmness to your home workplace. And In calmness, new ideas are born.
This is a classic workplace design which as of now is trending and will stay for many years to come. You can also include bookshelves along the wall and a bunch of frames.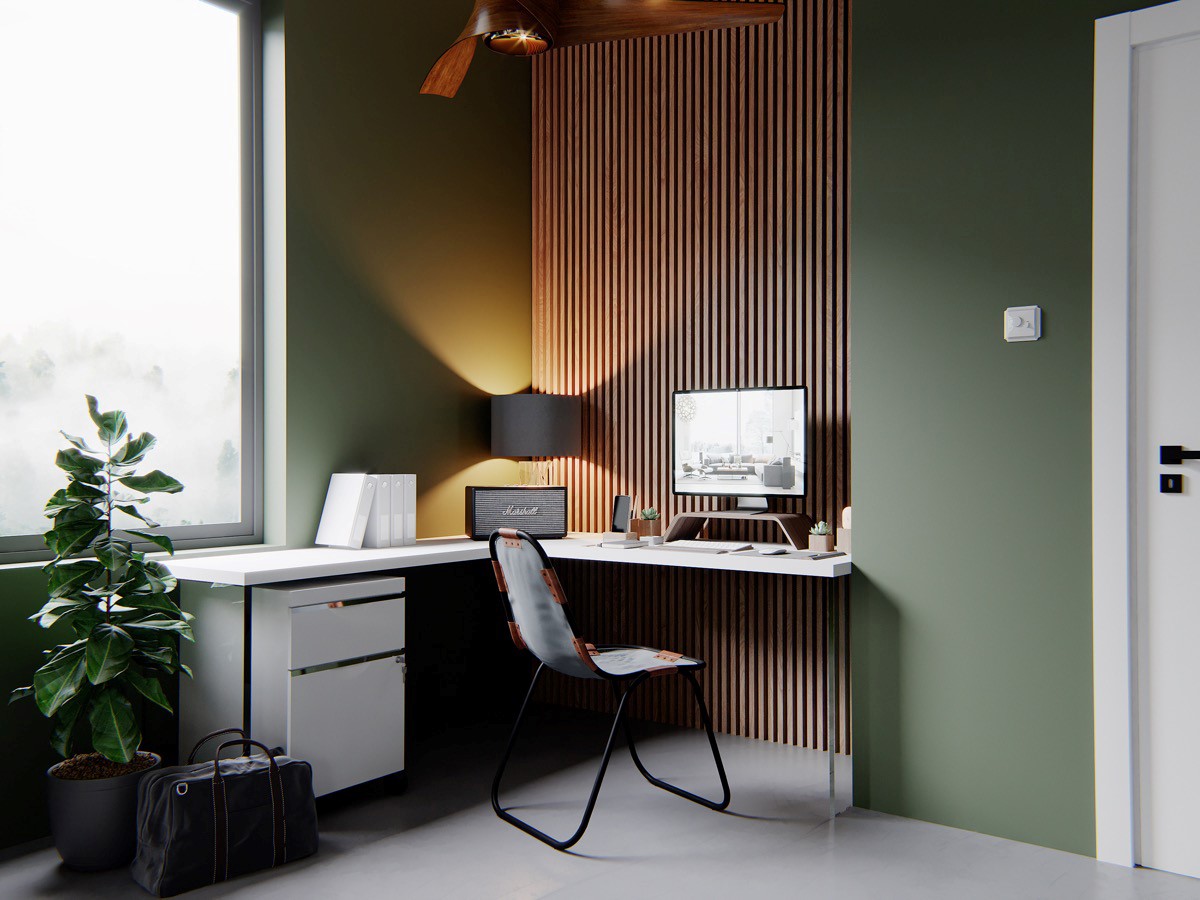 You might need help from a professional carpenter to get this done.
These were some of the best tips for your workplace at home. If you need help with anything like desks, wooden walls, lights, etc then contact us as Task Masters is the leading renovation company in Dubai. Got ideas of your own? Share them with us in the comments section below.