Top 10 Ideas For A Perfect Bedroom
Bedrooms are indeed special. You have a lot of memories attached to it right from your childhood to your old age. You spend most of your personal time in your bedroom and that's why your bedroom should be well maintained and amazingly organized. But how can one do that? I mean what else can one do with a room apart from keeping that tidy and nicely coloured. Well, there's certainly a lot of stuff one can do with his/her bedroom provided that he/she has an eye for creativity and interior decor.
Well, don't be upset if you do not know much about this thing but want to make your room classy. In this blog I'll be briefing you about a few things that'll help you remodel your bedroom like never before.
1. Designer Shelves
While the world is moving to a design-conscious era, traditional shelves have been replaced to a great extent by the very new designer shelves which come in a number of designs, themes and colours. Depending upon the size, theme and architecture of your room, choose a set of shelves that matches your taste and the aesthetics of your room.
2. Wood Paneling
This is something that'll give a cosy feeling to your room. That is because wooden walls provide warmth inside hence going for it can make your rooms comfortable and beautiful at the same time. You can choose to go for wooden panelling with a single or just two walls of your room and not necessarily the entire room.
3. Designer Cupboard
Having a beautiful cupboard in your bedroom adds to the overall beauty of your room. You can choose them from a variety of materials and designs. You can be having one made of walnut wood or maybe from the compressed materials of which you see the computer tables and wardrobes. You can use those cupboards for storing a variety of things including your gadgets, clothes, accessories, etc. You need to be a little smart while choosing the colour and pattern of the cupboard to maximise the beauty of your room.
4. Customised Furniture
Furniture items have always added to the grace of any space they are placed at. Talking particularly about bedrooms, having good looking and comfortable furniture placed in your room compliments every interior design element you have invested in. Just make sure to choose the colour that matches the overall theme of your bedroom. Cushion based furniture is highly recommended for a cosy space like a bedroom. 
5. False Ceiling
While we speak only about the walls and floors, ceilings can also add to the grace of your room if installed wisely. One of the examples can be the false ceilings. These suspended ceilings add to the charm of your room and can also accommodate customized lighting for your room.
6. Wood Flooring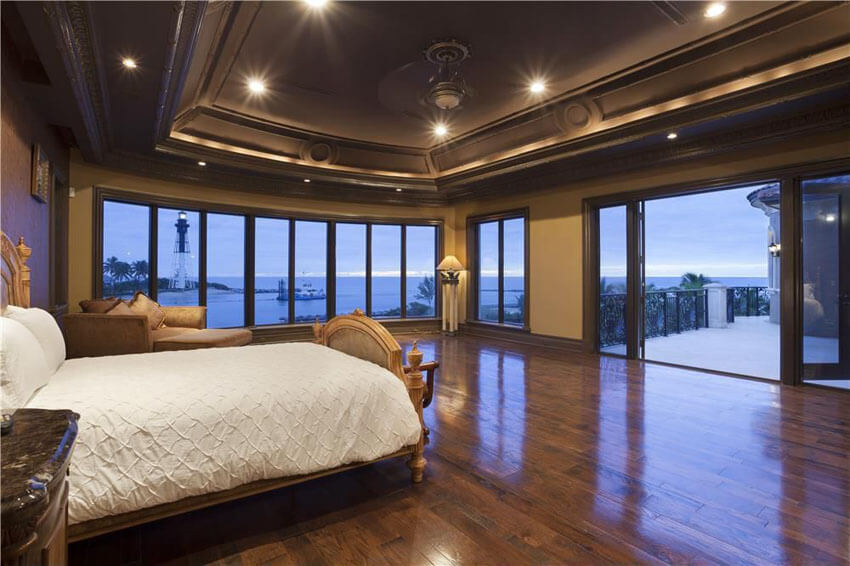 Installing wood flooring in your bedroom will give it a different look altogether. Having tidy, well-designed flooring compliments whatever you do with your walls and ceiling.  This again adds to the aura of your bedroom.
7. Beautiful Bedside Tables
No matter how beautiful and spacious your bed is, if it doesn't have a couple of beautiful bedside tables along, it looks incomplete. Whenever you design the bedroom make sure that you keep your bed at a place where there is some vacant space on both sides. It adds to the charm of your bedroom. Try using contrasting shades to give it a beautiful look. 
8. Media Unit
This might seem simple and normal but choosing the right media unit for your room is as important as choosing anything else. A media unit makes your room look a little modern while accommodating your TV set and other entertainment gadgets.
9. Separate Workspace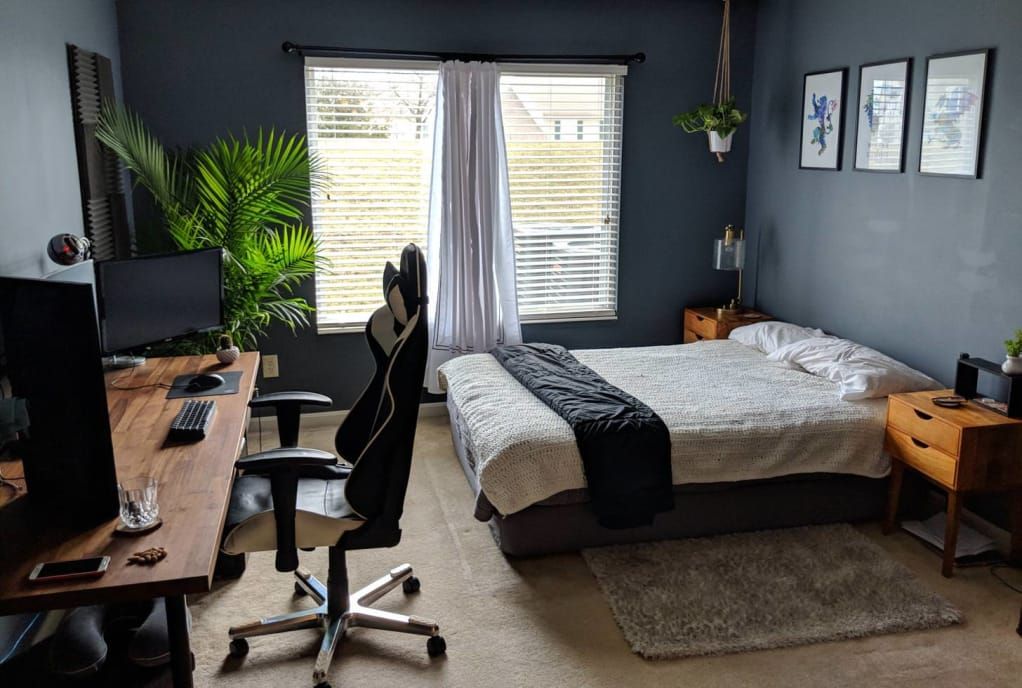 If you are a person who is working from home or loves to work from his home, making a designated workspace will be a smart move. You can use a wooden computer table that can also accommodate your other entertainment stuff. Placing a vertical mirror bookshelf will compliment it while making your room beautiful and well organised. This way you can utilize the space and will also be able to work from the comfort of your home.
10. Warm and Cozy Corner
No matter how big or small your bedroom is, having a nicely designed corner is what adds to its beauty and charm. What adds to its beauty is the nicely designed furniture. You can put a small table or maybe a good looking armchair to give it a nice cosy feeling. You can use this space for munching your favourite snacks too.
 So by now, you should be having an idea about how to decorate your bedroom to make it look nice.  The most important thing in designing any room is to know what your taste is like. Once you identify that well, half your task is done. So try identifying your taste well before going for the remodelling for better results. If you want any of these things in your home then don't forget to contact us.